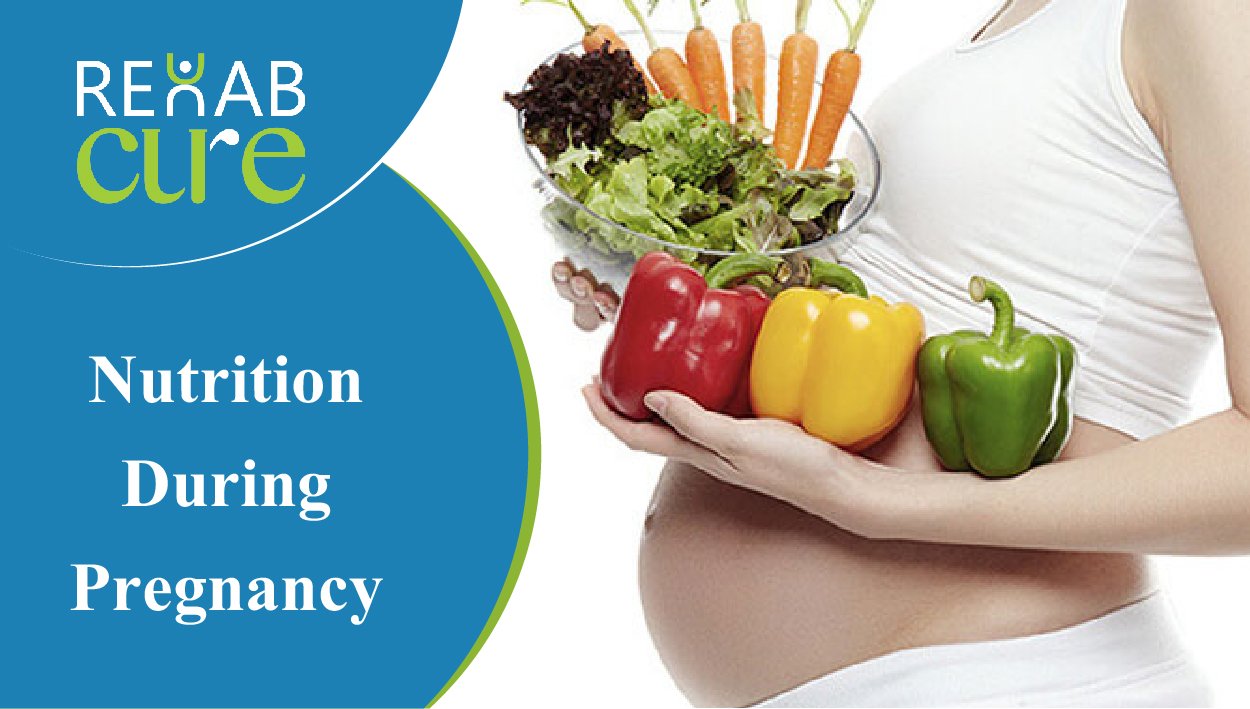 Nutrition During Pregnancy
The requirement for energy intake is increased during pregnancy for every single nutrient. A woman's nutritional needs change when she is pregnant. She needs more folic acid, iron, and calcium. She also needs more calories. Here are some tips for eating a healthy diet during pregnancy. 
Weight gain during pregnancy:
The recommended gain for a woman who begins pregnancy at
Healthy weight                             25-35 pounds gain (11-15 kg)
Underweight                                 28-40 pounds' gain
Overweight                                   15-25 pounds' gain
Weight gain pattern
During 1

st

 trimester                 3

1/2  

pounds
Each week thereafter              1-pound weight gain
Factors that influence weight gain during pregnancy are
Blood volume increases
Amniotic fluid increases
Placenta increases
Fetus weight increases
Nutrition during pregnancy:
Fetal growth and pregnancy demand additional nutrients
Prominent changes during pregnancy
Uterus enlarges and strengthens
Blood volume increases to carry extra nutrients and material
Joints become more flexible
Feel swelling in response to estrogen hormone as fluid retention helps in delivery.
Breast enlargement for the preparation of milk.
Energy:
The metabolic rate increase by 15 % in pregnancy. Nutritionally dense foods are more required than energy needs.
The 2002 DRIs for energy are
1

st

 trimester                                              0 kcal/day
2

nd

 trimester                                           +340 kcal/day
3

rd

 trimester                                            +450 kcal/day
Whole grain cereals
Legumes
Dark green vegetables
Citrus fruits
Low-fat milk and milk products
High-fiber foods
Protein
First half of pregnancy                                  0.66 g/kg/day
Second half of pregnancy                             71 g/day
During the entire pregnancy                             +25 g/day
Get enough protein intake by selecting
Meat
Milk products
Plant foods such as legumes, whole grains, nuts, and seeds
Essential fatty acids:
Long-chain polyunsaturated fatty acids are important to the growth and development of the fetus.
Brain depends upon omega-3 and omega-6 fatty acids for its growth and for eyes.
How to Increase Blood in Pregnancy?
Nutrients for blood production and cell growth:
Iron                                                27 mg/day
Zinc                                                12 mg/day (<18 years), 11 mg/day (19-50 years)
Vitamin                                         B12 6 µg/day
Folate                                            600 µg/day
Nutrients for Bone Growth:
The AI requirement for the following nutrients does not increase during pregnancy
Calcium
Phosphorus
Magnesium
Vitamin D
Folate                                              400 µg
Zinc                                                15 mg/day
Iron                                                30 mg/day
Vitamin C                                     50 mg/day
If you are looking for the best diet plan in Lahore visit RehabCure or book an appointment.
Call Now: 0336 – 2003 567