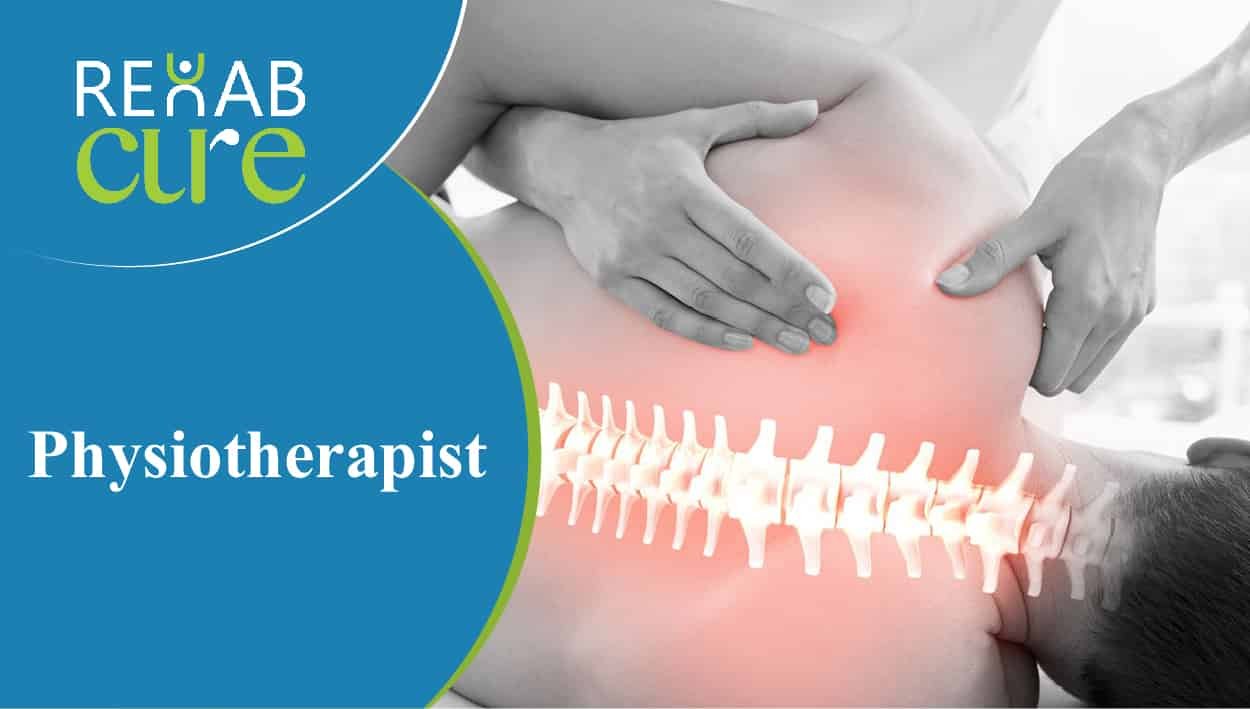 Best Physiotherapist in Lahore, Pakistan
Physiotherapist in Lahore:
Physiotherapists are healthcare professionals who treat joints, muscles and nerve pain, disability, and weakness of all age groups through their hands and machines, escaping you from medicine and surgery. They work in a team for a patient, focus on in-time and outcome-based recovery.
What Major Problems Physiotherapists of REHABCURE treat?
Myths about Physiotherapy?
There are a lot of conditions that can be treated by Top physiotherapists of RehabCure. A few of
they are as follows
Joint pain (

arthritis

)

Disc & Spine problems (

Slipped Disc

)

Muscular weakness and nerve injuries

Before and after pregnancy rehabilitation

Cerebral palsy and other physical conditions in kids

Paralysis/Stroke

in old age

Balance and coordination issues
Facial palsy
Knee Pain
Frozen Shoulder
Wrist Pain

Foot Pain

Hip Pain

Elbow pain

Neck Pain

 and back issues

Posture assessment and treatment

After fracture healing and movement training
Are you Looking for Best Physiotherapist in Lahore?
Consultation with professionals
Myths about Physiotherapy?
Physiotherapy is not a new profession in the world. In Pakistan, due to its exponential awareness, physiotherapy is considered one of the integral components of medical sciences. But still, there are a lot of myths among the community.
Are steroidal injections best for pain relief? Now it is said that they can cause more

injury in the structures called collagen which makes up the muscles and tendons. According to the latest research, Physiotherapy may produce better effects and less injury than steroidal injections and can be the best conservative treatment for both shoulder and knee pain.

Is MRI best to diagnose Low back pain or a distraction?

Current research says that the clinical picture is more important in case of non-traumatic low back pain than MRI as MRI may introduce distractions among doctors and patients. Low back pain has hundreds of causes so an experienced therapist can identify the specific causes more effectively than MRI. However, if there is any trauma/ injury then MRI will be the gold standard in that case.

Physiotherapists are massage therapists?

                                                                              

DPT is a complete 5-year degree program going on in Pakistan but Massage therapy is a Diploma or BS program not taking place in Pakistan yet. Massage therapy can be used in physiotherapy as one of the treatment tools for the best outcomes for the patients.

Is Physiotherapy beneficial or just a wastage of money?

 

Physiotherapy is always beneficial in patients with painful conditions and body weakness. It is said that if physiotherapy is not producing results in 3 days so better to change the physiotherapist in Lahore Pakistan or the treatment approach. Every session has value and is reflective of the patient.

Can anyone do Physiotherapy?

 

Physiotherapy is the most difficult profession in reality and may not be done easily by a common man if the condition is severe and chronic. So the better opinion is to consult an expert physiotherapist in Lahore rather than treat the structure on your own. Most importantly, usually, the patients or their attendants delay the treatment of the patients and don't visit an expert physiotherapist. This may lead to more and more complications in the body and late recovery.

Should we wait to visit a Physiotherapist?

 

Patients with pain or functional disability need the right referral at the right time. Unfortunately, due to the weak referral system in our country or lack of knowledge about the right referral, the patient's recovery gets delayed leading to poor outcomes and functional issues.

Is stair climbing or sitting on the ground or walking harmful to knee and back pain?

It is a wrong dilemma if anyone has knee or back pain then he/she should not walk, climb stairs or sit on the ground. Our muscles need the force of 3 times body weight while climbing stairs and force of 7 times body when standing from a sitting position. This may lead to weakness in the specific muscle group after a month or so. According to the latest guidelines, one should return to heavy activities as soon as the condition subsides.

It's not true that there is no need for lab findings and radiological films to show to Physiotherapists.

Once you have made up your mind to have a consultation with a physiotherapist, you must come for a checkup with all the details related to your condition.

Are medicines only reduced pain?

Physiotherapy treats the structure in a way that may reduce inflammation, weakness, stiffness, and tightness of the structures. It does not replace medicines but has an important role in reducing the use of medication.

Physiotherapy produces a permanent

 solution rather than the temporary one.

Physiotherapy is the long-term treatment approach rather than the shorter term that all depends upon the expertise of the professional. Patients may not have reversed just after physiotherapy treatment.
Physiotherapists have to complete 5 years of Doctor of Physiotherapy which is the minimum requirement to work as a practitioner and must have complete skills and knowledge of the whole human structures and functions
How Physiotherapists work:
Physiotherapists take the complete history of the patients. They assess, diagnose and plan a complete treatment of all age groups which may vary from patient to patient. Well-experienced physiotherapists will not stick to a conventional treatment plan for each problem rather they apply advanced approaches and procedures for a specific part of the body or condition of patients which are safer than many other medical approaches. Best Physiotherapists in Lahore or Physiotherapists help patients to be functional again from stair climbing, deep sitting, running to walking activities. They reduce the chance of injections into the joints and assist surgeons to make their surgeries successful. The patients can have direct access to a physiotherapist in Lahore Pakistan which means patients can come directly to the best physiotherapist for consultations and treatment.
DOMAINS OF PHYSIOTHERAPY:
Best Physiotherapist in Lahore can work in around 26 domains from Patient Consultation, Research, Education, and Administration services. Physiotherapy umbrellas many subspecialties, i.e. Orthopedic Physiotherapy, Sports Physiotherapy, Neurological Physiotherapy, Cardiology Physiotherapy, Fitness Therapy, Western Medical Acupuncture, Gynecological Physiotherapy, pulmonary Physiotherapy, Fascial Manipulations, Joints adjustments (Chiropathy/ Chiropractitioners), Pediatric Physiotherapy, Posture therapy, geriatric physiotherapy (physiotherapy for older adults), vestibular rehabilitation, biomechanics, Cancer physiotherapy, rheumatological physiotherapy
Why REHABCURE (The Best Physiotherapy Clinic in Lahore, Pakistan)?
State-of-the-Art assessment and treatment rooms

Work in a team that is highly focused and motivated for patient's in-time recovery

Patient's pain management and treatment approaches on international guidelines

Before and after pregnancy rehabilitation

Cerebral palsy and other physical conditions in kids

Team of neurological physiotherapists for neurological patients

Team of pediatric physiotherapists for physically disabled kids

Latest machinery for pain management and fitness training

Female doctors available for female patients and easy interaction

The facility of parking, reception, a patient receiving and discharge for better care and healthy

relationship.
If you are looking for a Physiotherapy center in Lahore, you should try once RehabCure Team. Thanks