Mainly cardio are used for reduce weight and burn fat. They increase our heart rate. Cardio make heart muscles strong enough that it doesn't have to work hard to pump blood. Cardio reduces risk of certain diseases like high blood pressure, heart attack, blood cholesterol level, diabetes and some type of cancers. It also helps to control disease like high sugar levels and high blood pressure.
Here is a list of top gym equipments which can be used for cardio in gym:
Treadmill
Rowing machine
Spin bike
Elliptical
Arc Trainer
Skill mill
Air Bike
Versa Climber
Treadmill:
Treadmill is considered as best for High Intensity Interval Training as the speed and inclination can be controlled by the individual according to once needs. It is one of the effective equipment for reducing weight, burning calories and improving cardio-vascular function.
Rowing machine:
Rowing machine is one of the best low impacts exercising equipment. It is well-suited for cross training. Rowing provides greater range of muscle work as compare to other cardio. In comparison to treadmill rowing is even better for reduction in weight loss and gaining muscle mass.
Spin Bike:
Spin bike is one of the best gym equipment for cardio. It is also more effective for person having some hip and knee problems. A medium to high resistance level with a brisk pedaling provides outstanding cardio exercise. It is one of best equipments in gym to burn calories and body fat along with strengthening of lungs heart and muscles.
Elliptical:
Elliptical is good aerobic workout that helps to strengthen your heart, lungs and muscles. It is safer than a treadmill as your feet stays in contact with pedals. It's a low impact cardio that places less stress on your joints.
Arc trainer:
Arc trainer is a cardio machine that is much like an elliptical but a slight difference in motion of foot which move along an arc. It is easier rather an elliptical because it places less stress on your knee joints and hence safer to use. They are available in two styles:
Lower body: the original was a lower body machine in which your hands simply rest on rails while you work on your legs.
Total body: it involves full body workout. Resistance, inclination and stride rate are adjustable
 
Skill Mill:
It is one of the best gym equipment. It is a self-powered tread mill. The main advantage is that you can increase the pace instantly rather than holding the button and waiting for speed to increase slowly. This quality makes this skill mill more efficient for short and sharp High Intensity Interval Training.
Air Bike:
Air bike is a best alternative for those who are unable to run or do a treadmill. It is safer to use for individuals having some ankle sprain or quads injury. It can be used for rehabilitation purpose because it provides safe movement with no or little impact. It increases blood flow to the injury site and aid the recovery time. Benefits of skillmill include it are a low impact and total body work-out along with low impact on joints.  It also provides unlimited wind resistance.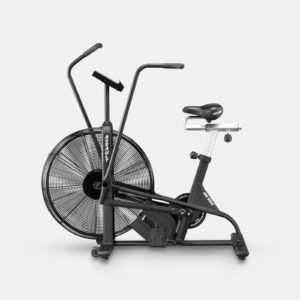 Versa Climber:
It is a great tool for total body strength as well as for cardio. The level of resistance and speed can be adjusted. At a lower level of resistance it'll be more challenging as you need to move your arms and legs continuously to crank up with the resistance and it offers more workout.